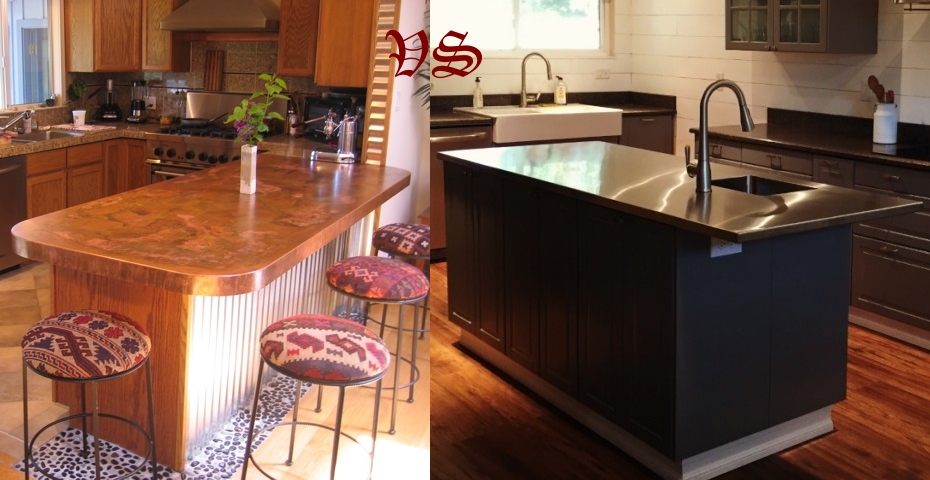 When it comes to metal countertops, the two heavyweights are copper and stainless steel.
Both are great options, with distinctly different feels. Copper tends to add warmth, where stainless steel tends to feel more modern. Both will become scratched with regular use – that's how metal works. If that's a concern, you can always have a vibration finish applied – this hides all but the deepest scratches (by applying very fine non-directional scratches all over).
One misconception I've seen while browsing the internet is that copper countertops are soft and dent easily.
While copper IS soft, if you use 48 oz copper (as we do), it is not easily bent or dented. It's approximately 1/16″ thick – it's not flimsy by any standard. It can be dented – but dropping a can from a cabinet is not going to destroy your countertop, or even do significant damage. If you use the thin, DIY copper countertop sheets you can get online, then yes, your countertop will be in a sad state.
There's no substitute for using the correct thickness of material.
Most people seem to realize that for stainless steel countertops, you want to use approximately 1/16″ thick sheets. So like the copper, these are not easily bent or dented.
Cleaning
Cleaning either material is rather simple. Warm soapy water is pretty much all you need. Copper countertops will develop a patina over time (change color) – for most people, this is part of the beauty of copper. If you don't want them to patina, you're going to need to spend a lot of time with upkeep – using a sealant or a wax to keep them protected from water and anything else that might spill on them. The big downside to sealing copper countertops is that you lose out on their inherent antimicrobial properties – they'll kill almost all bacteria left on them after a few hours.
Have questions about stainless steel or copper countertops? Ask us! Give us a call or leave a comment below.