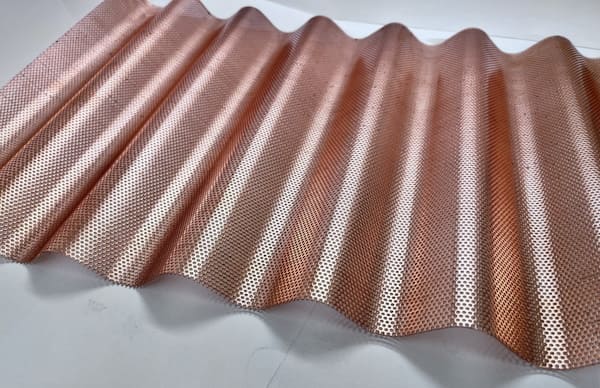 Handformed Corrugated Panels – Perforated 20 Oz Copper 1/16 on 3/32
Rib Height – Prox ¾" – Will Vary
Panel Lengths – Up to 120"
Panel Widths – Prox 19 1/4" – 20" – Will Vary
Panel Coverage – Prox 17 ¾" – 18 ½" – Will Vary
Customer has been made aware that the edge perforations will likely be imperfect and inconsistent.
Perforated sheets will have discoloration and scratches, due to the perfing process and handling .
Discoloration, and/or scratches, perforation imperfections and/or inconsistencies, are not grounds for refusal, return, replacement, refund, nor credit.
For a quote, give us a call at 800-799-1900.